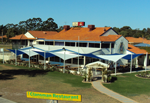 The Clansman
---
The Clansman is a restaurant with a tavern license located on the picturesque Murray River in South Yunderup, near Mandurah.
The venue is also a Function and wedding centre and has manicured gardens to compliment the river views.
It has 8 beers on tap plus the usual pub fridge stock.
Being more restaurant than pub, the main focus is on quality food and a nice selection of wines.
See our website for a map and directions to the Clansman.
Location
Lot 2 Tatham Road
South Yunderup WA 6208
Parking
Plenty of car park space around the venue.
Primary Events
Pro League, Free League
Contact Details
Ph: 9537 6400
Fax:
Email
clansman@westnet.com.au
Website
www.theclansman.com.au
Upcoming Events
League
Date
Registration
Play Starts
Comments
There are no upcoming tournaments booked at the moment.