News Archive
View News From:
---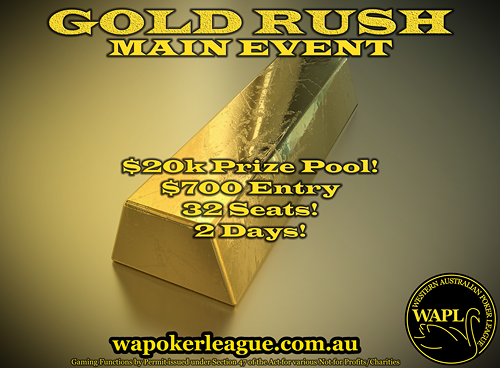 It's with deep sadness that we must announce that the first Gold Rush Main Event will be postponed until early 2018.
We have had an unexpected death in the family, and need to spend some time coming to terms with it, so unfortunately we need to focus on ourselves for the time being, over the stress of preparing final numbers and arrangements for the Gold Rush.
Many of our Sydney WSOP playing crew will no doubt be happy at us rescheduling this event, as the first dates clashed with many travel arrangements for what looks to be a massive Australian poker tournament, and we wish those who are heading east for it all the very best.
With Christmas so close by, we decided to push Gold Rush #1 into early 2018 instead of trying to squeeze it in around our Grand Final next month.
We've listened to many of your great suggestions, and will continue to run satellites to the Gold Rush for you all to qualify for what will be a great event. One of the main questions we've been asked is "Will the Gold Rush be Dealer Dealt?" - Yes, yes it will! :)
Our apologies for changing the date, but given the circumstances we feel that we would be better able to host the event for you once we get through this difficult time and are back on track. Our list of main event participants will be contacted with further information shortly.
Please email info@wapokerleague.com.au if you have any specific questions and I'll endeavour to get back to you as soon as possible.
Thanks for your understanding,
Jason
PLO on the WAPL Live Table!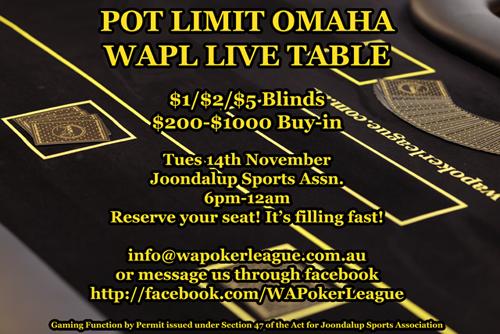 Tuesday 14th November, 6pm start, til midnight. 5:45pm to get chipped in!
Don't miss out on this opportunity, get in touch with us now to secure your seat!
It is highly recommended that you reserve your seat well in advance to avoid disappointment.
Changing it up now, as per requests from our PLO playing members -
$1/$2/$5 Blinds, $200-$1000 Buy-in.
Gaming Function by Permit issued under Section 47 of the Act for Joondalup Sports Association
Here's your chance to win your way directly into the Gold Rush Main Event in early 2018!
You want one of these 32 seats! Win it this Wednesday night!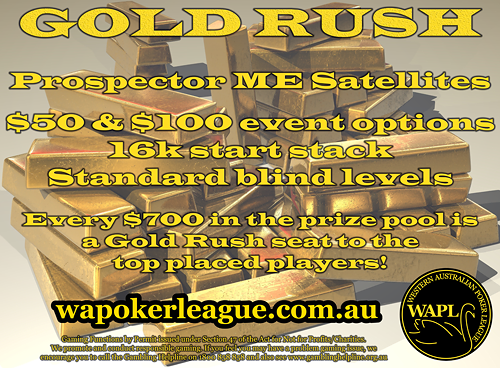 1 in 4 wins a $700 Gold Rush Main Event Seat!
Wednesday 8th November @ The Spruce Goose Subiaco @6:45pm
The Main Event Qualifier pays out $700 Gold Rush Main Event seats to the top ranked players, and stops when all remaining players win seats.
Bronze and Silver SNG Satellites may be played after it is finished.
This is the best way to get into the Gold Rush Main Event, where the top 4 places (from just a 32 player tournament) win their share of the massive $20,000 cash prize pool!
1st - $10,000
2nd - $5,000
3rd - $3,000
4th - $2,000
Gaming Function by Permit issued under Section 47 of the Act for Various Charity Organisations