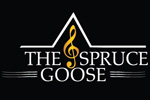 The Spruce Goose
---
Launched in 2015 by The Clark family to offer Subiaco something that was missing. A safe late night venue with the finest tapas, beverages and quality live music. Other than promoting local live music The Spruce Goose is known for hosting events featuring some of Australia's top performers along with the rare appearance from International superstars.
Location
71-75 Rokeby Road
Subiaco WA 6008
Parking
Parking at the rear off Hay Street for Patrons
Primary Events
Special Events
Trading Hours
Wed-Sat - 11am-1am
Sun - 4:30pm-10pm
Contact Details
Ph:
Fax:
Email
booking@sprucegoose.com.au
Website
https://www.sprucegoosesubiaco.com/
Upcoming Events
League
Date
Registration
Play Starts
Comments
There are no upcoming tournaments booked at the moment.