---
Current News
---
30/07/2017 - Welcome to WAPL Season 35! Season 34 GF this weekend! -
Permanent Link
Thanks for your support during Season 34!
Congratulations to our Season Champions!
The Pro League Season was won by Freddy Crompton!
The Free League Season was won by Jarryd Buscall!
Pro League Results!
Free League Results!
It's Finals Time for Season 34!
We have the Grand Finals coming up this Sunday, 6th August, at the Joondalup Sports Association!
Registration opens for Pro and Free Leagues @ 11am, with seating @ 12 midday. The Pro buy-in is $100 and open to all members. It is strictly limited to 5 tables, 40 seats, and first in first served for seats. Be sure to get in as soon after 11am as you can to ensure you get your spot!
More info regarding the Grand Finals can be found at -
http://wapokerleague.com.au/content.aspx?ContentID=final
The new season starts this week!
Yes, season 35 starts this Tuesday (1st August) at Joondalup Sports Association (Beaumaris) and 3rd August at Woodvale Tavern. This Season will run until the 7th December before Season 36 and this Season's Grand Final.
Your WAPL Team
10/07/2017 - A huge milestone for a great member! 1000 games! -
Permanent Link
Jan Burke, one of the many long term, loyal, and wonderful friends we've been fortunate enough to have made through WAPL over the last 11+ years, has just last Thursday reached a great milestone for herself and our league.
1000 Free League Tournaments!
Just about everyone who has played at our northern venues, Free or Pro League, will know who Jan is, by sight if not name, but many will not know to what extent Jan has been a great supporter of WAPL over the last decade plus.
Jan has been the Permit Holder for our fundraising events at the Woodvale Tavern for almost as long as she's been playing poker with us, and as such, her dedication of her time, week in and week out, helps make it possible for every one of our Pro and Cash players to play poker with us.
Jan has been a life member of WAPL for many years now, thanks to the phenomenal support, great energy and wonderful attitude she brings to every event, and is also a Free League Grand Final Champion!
So, in congratulating Jan for this great achievement of 1000 Free League events (She's played a good deal of Pro events, too!), we'd also like to extend our undying gratitude to her for her great help over the years, and hopefully for many to come :)
It was absolutely fitting, and a great occasion, to see Jan manage to WIN the tournament on Thursday for her 1000th!
Here's a couple of shots of Jan, one from way back when, at her very first tournament win (which was at the Woodvale Tavern, no less!), and her 1000th tournament win!
Thanks Jan!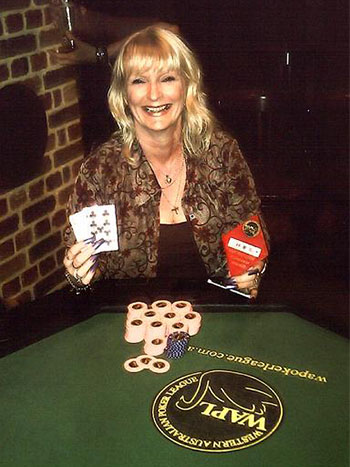 Jan's first win! 15th February, 2007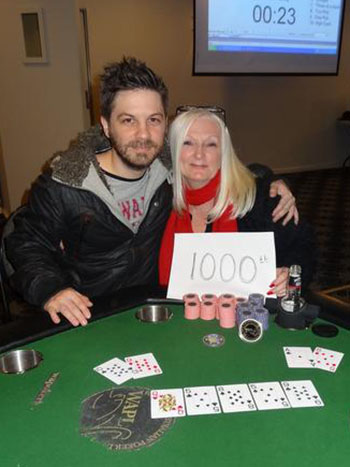 Jan wins her 1000th Free League game, 6th July, 2017, with her son Jod!
10/07/2017 - Introducing the WAPL Live Table - Watch us play! -
Permanent Link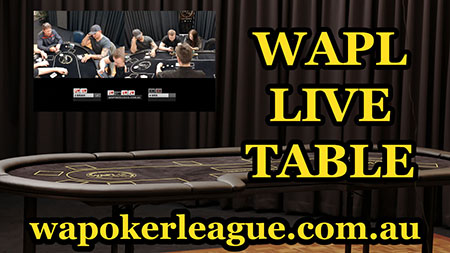 We have been running the WAPL Live Table since April 2017, recording and releasing footage (if you've missed it) to our YouTube channel (http://youtube.com/wapokerleague) and Facebook (http://facebook.com/wapokerleague)
Now we've expanded to live streaming the action from the table, with a 15 minute delay!
From May, we will (unless we experience issues) be streaming our WAPL Live Table games to our Twitch.tv channel, http://twitch.tv/wapokerleague
Make sure you head there and follow us, so you get notified when we go live!
Our live games are delayed by 15 minutes, to avoid the potential for viewers to influence hands in play, so that means that for a 6pm-midnight event, you should be able to watch us live from 6:15pm until the end of gaming.
Please get involved, hop into the live chat and give us your comments, suggestions, and any criticisms you might have for us to make the WAPL Live Table experience the best it can be for our viewers, members, and players, and help us spread the word around the local (and wider) poker communities.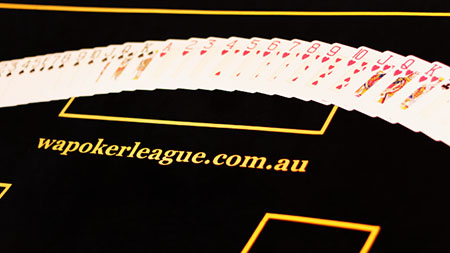 If you want a seat on the WAPL Live Table, email us (info@wapokerleague.com.au) and we will find you a spot, but please be patient as seating is in high demand!
WAPL Events are conducted at Gaming Functions by Permit issued under Section 47 of the Act for various charity and not for profit organisations.
We promote and conduct responsible gaming. If you feel you may have a problem gaming issue, we encourage you to call the Gambling Helpline on 1800 858 858 and also see http://www.gamblinghelpline.org.au
---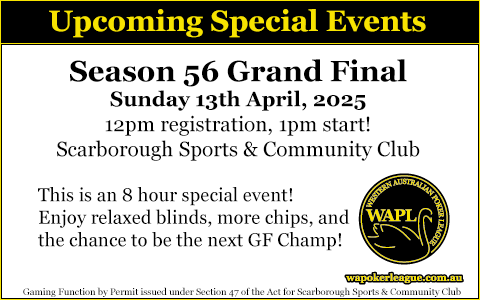 ---
Quick Links
---
Western Australian Poker League promotes and conducts responsible gaming. If you feel you may have a problem gaming issue, we encourage you to call the Gambling Helpline on 1800 858 858 and also see www.gamblinghelpline.org.au