---
Current News
---
16/09/2014 - The League loses a gentleman -
Permanent Link
Unfortunately, we lost a life member of WAPL recently, much to all of our distress.
Larry Gane has been a regular Free League player for over 6 years, and his smiling face and great banter brightened many of our poker nights. He was a Free League Grand Final Champion (Season 21), and everyone respected and admired him.
Furthermore, Larry was Permit Holder for many years, taking responsibility for and helping with the licensing side of our poker events. Without his effort and reliability, many of our Pro League events could not have run as efficiently.
Larry's unexpected passing is a great loss to us all, and on behalf of ourselves and all WAPL Members we would like to give his family (including his daughters Sarah and Elizabeth who are also regular players) our deepest condolences on the loss of a great family man, friend, and gentleman. The number of fellow poker friends who attended his funeral last week attest to how much respect we all had for him.
On Tuesday 16th September, we will be holding a special double stack Free League tournament in Larry's honour, and there will be some great bonus Passport Prizes available in addition to our regular prizes. Please join us to help celebrate Larry's life from 6pm (registration), starting 7pm, at the Beaumaris Sports Association.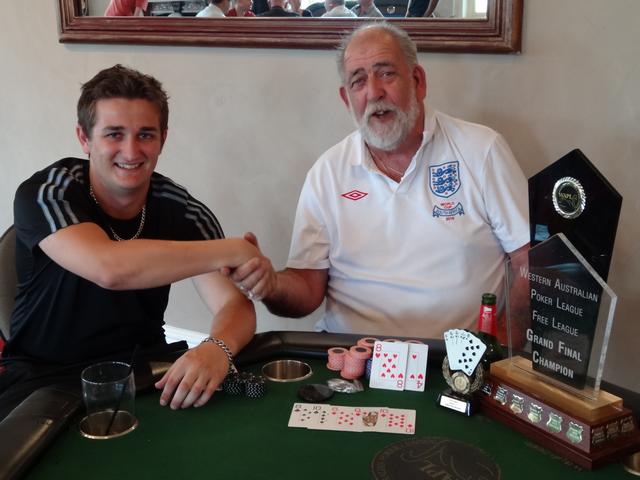 Larry (right) at his Grand Final victory!
23/06/2014 - Season 25 Grand Finals this Sunday. Season 26 starts Tuesday 24th! -
Permanent Link
WAPL Season 25 Grand Finals
---
Here is the information for the Season 25 Grand Final!
For those Pro players buying in, you CAN USE any remaining $100 PoCA Challenge Tickets to buy-in in part or in full to this Grand Final! Don't forget to bring your ticket(s) with you!
Pro League - Overall Season ranking prizes
1st - Season Champion Trophy & $500
2nd - $300
3rd - $200
The top player for each venue at the end of the season will also win a $200 cash prize for being the venue champion!
Only Pro League venues running for over 5 weeks during a season will be eligible for the winning prize payout.
Pro League Grand Final

Great Prize Pool!

Quality event, quality venue

10,000 starting stack FREEZEOUT

30 min blinds

Cash Tables

Sit N Goes

More Details -

Locations, Dates & Times

Pro & Free Leagues - Sun 29th June 2014 - Beaumaris Sports Association

Pro League Registration and cash tables open 11am.


Final Pro League registration 11:45am for a 12 noon start.

Free League Registration opens 11am.


Final Free League registration 11:45am for a 12 noon start.

$10 re-buy registration opens 12:00pm.

Please don't be late, as it's critical we start the tournaments on time and we don't want to turn latecomers away.
Pro League Grand Final
Top 100 on Pro League Ladder qualify.

Top 10 on each Pro venue Ladder qualify.
Qualifiers - $200 buy-in less $5 per Pro game up to 30th April 2014 (Free for 40+ games played during season!)
Top 10% of the players win cash prizes!

Free League Grand Final

Top 100 on Free League Ladder qualify.

Top 5 ranked players receive a FREE rebuy if they get knocked out before the first break!

Free League Championship Trophy Prize, nothing of monetary value, but you're playing for the fun and the fame of becoming the Free League Champ!

There will also be Cash Tables and Sit'n'Goes running for players who wish to play more poker during the events! Cash tables can start from 11am, and go til 7pm.

Gaming functions by Permit issued under Section 47 of the Act for Beaumaris Sports Association
---
18/08/2013 - Team WAPL Macau - August 2013 News (with live updates!) -
Permanent Link
We see 6 Team WAPL members head over to Macau for the Red Dragon in August, 2013, for what is sure to be another great trip for Team WAPL!
Headed up by WAPL's Frank and Jill Maley, we have past Team WAPL members Darren Rudrum and Murray Rhodes heading back for more fun, and PoCA Challenge newcomers Stephen King and David Irwin experiencing the amazing Macau for the first time!
The latest news is on WAPL's Facebook page - facebook.com/WAPokerLeague
Frank and Jill had a great start to the trip, both winning their main event entries through satellites!
Team WAPL all played Day 1a of the Main Event.
Day 1a
Photos courtesy of Kenneth Lim Photography (first 5) and Seven Tarepanda (Dave)
Awesome news! We had 4 of our 6 Team WAPL Members through to Day 2!
Dave and Jill both got unlucky to bust in Day 1a, but will be taking part in further events, so good luck with those!
Day 2
After a couple of days break for the completion of Day 1b and 1c, Team WAPL hits the felt again for Day 2 of the Pokerstars Macau Red Dragon!
Frank is doing very well, sitting at 25th overall in chip lead. Stephen is short stacked, with Darren and Murray about average chip stacks.
Stephen caught a few double ups to get right back in the thick of things, overtaking Frank to over 120,000 in chips at one point later in the day!
After hours of play, and a total of 645 players starting in the event, Stephen and Frank both made it to the Top 77, and are in the money in the main event! Congratulations!
With play set to finish at 11pm Saturday night, they still had a long way to go. Frank was still going strong, with Stephen dropping back to a short stack, folding away the places (and getting higher up the cash payouts!)
At exactly 50th place, Stephen got knocked out (over $22,000HKD cash, congratulations!), leaving Frank as our final Team WAPL member in the main event! Frank still hovering around the 200,000-300,000 mark, now about average stack.
In a very exciting Day 2, 11pm finally rolled around, and we saw Frank left with 328,000 in chips, with 21 players remaining! Best of luck tomorrow Frank! Ship it!
Day 3
Photo courtesy of Kenneth Lim Photography
In a tense start to Day 3, we immediately lost 2 players in the first few hands.
Early on in the day, Frank picked up a hand and chipped up a bit, then folded out of another he'd got involved in.
He's been playing tight, and very composed, as would be expected from a player of his international poker experience!
Around him players have been dropping throughout the day, with him hanging in there!
With just 12 players remaining in the event, Frank is now 2nd short stack with 200,000 in chips, and in a tough position with the blinds now up to 12,000-24,000, and the antes 4,000!
Another two players fall, leaving 10 players with Frank still in!
1 more player to Final Table.... Good luck Frank, bring home that Trophy (the $1.3 million HKD (~$200,000AUD) would be great too!)
Frank has made Final Table as short stack, with exactly 200,000 in chips!
Final Table
Photo courtesy of Kenneth Lim Photography
Frank hit final table of the Pokerstars Macau Red Dragon as the short stack with exactly 200,000 in chips, and in doing so has become the second Team WAPL member in as many years to make the Red Dragon Final Table since Bob Streatfeild cashed in 9th position in September 2012!
Frank will be hoping to see some good cards and not run into Aces, which ended Bob's run to 1st place last Sept. He's in a tough spot right now, with the blinds up to 15,000-30,000 and 5000 antes. It's time for the big pockets to come his way!
Great effort Frank, best of luck for Final Table!
Frank just doubled up on Final Table with Pocket Jacks vs Ace Queen! Flop came King 4 5, with a 6 on the turn and an 8 on the river!
He is now over 500,000 in chips! Just the bit of breathing space he needed! Keep it going Frank!
Frank the Tank, heading to the Bank!
Well, after a gruelling 3 days of play, Frank Maley has been knocked out in 7th place!
It went like this - Frank raised to 135,000 pre-flop with Ace Jack of Hearts, gets re-raised to 230,000, and calls to see a flop of 6, 6, 10.
His opponent is holding Pocket 10s and just hit a full house, yet Kiwi Thomas Ward proceeds to bet the flop with 200,000. Frank believed that he Thomas hadn't hit the flop, and flat called with his two overcards and a possible flush draw if the turn comes a heart.
The turn comes a Jack, giving Frank top pair top kicker. Ward bet 350,000, and Frank instantly shoves his stack. Ward calls with his full house, leaving Frank needing one of two remaining Jacks to win the hand.
The Jack didn't come, and Frank leaves the Pokerstars Macau Red Dragon Main Event in 7th place, winning $206,000HKD (~$29,000AUD) for his great performance!
Frank won his Main Event entry through a ~$180AUD satellite in Macau the day before the Main Event started.
Congratulations Frank, you've made us all proud!
Photos courtesy of Kenneth Lim Photography
The latest news is on WAPL's Facebook page - facebook.com/WAPokerLeague
---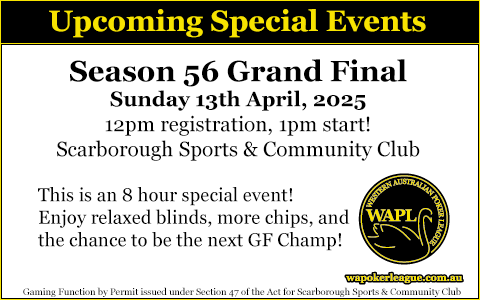 ---
Quick Links
---
Western Australian Poker League promotes and conducts responsible gaming. If you feel you may have a problem gaming issue, we encourage you to call the Gambling Helpline on 1800 858 858 and also see www.gamblinghelpline.org.au