---
Current News
---
26/12/2016 - Season 32 Grand Final Results, & Poker returns 3rd Jan 2017! -
Permanent Link
The Season 32 Grand Finals were a blast, and here are the results!
In the Pro League, 28 players fought it out for cash prizes in the top 3 places, whilst 23 Free League players competed for the Grand Champion title.
It was a great day, many solid plays and bad beats were had!
Congratulations to our Pro League Season 32 Grand Champion, long time member Rosdy Nordin!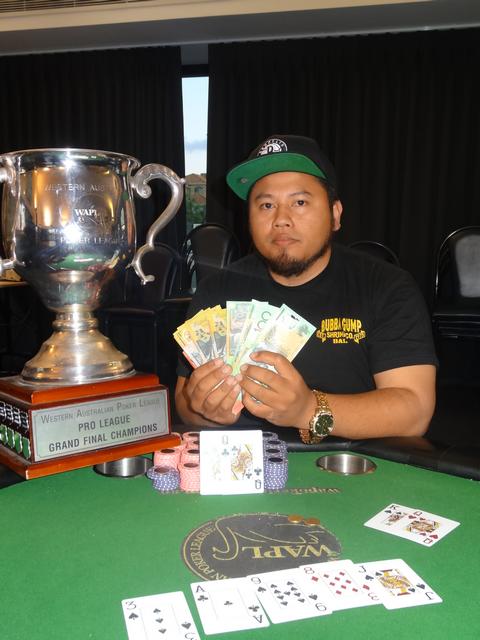 In the Free League final, we saw a heads up between Paul Lord and last Grand Final Champion Ritchie Cunningham. Paul ended up taking out the tournament, becoming our Season 32 Free League Grand Champion. Well done Paul!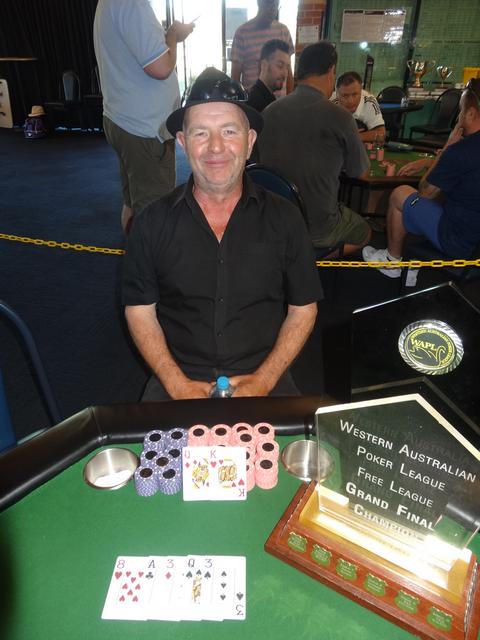 You can check out the event results here -
Pro League Grand Final Results - http://wapokerleague.com.au/event_results.aspx?EventID=9740
Free League Grand Final Results - http://wapokerleague.com.au/event_results.aspx?EventID=9741
Thanks for supporting the Grand Finals, we are glad you all had such a fun day, and we look forward to seeing you back at the Joondalup Sports Association from the 3rd January and the Woodvale Tavern from the 5th Jan!
Have a safe holiday period, and all the best for 2017!
Your WAPL Team
12/12/2016 - Welcome to Season 33! Season 32 Grand Finals this weekend! -
Permanent Link
Thanks for your support during Season 32!
Congratulations to our Season Champions!
The Pro League Season was won again by Danny Poolman, with Kevin Kenny in 2nd place!
The Free League Season was incredibly close this season, and was won by Una Van Den Berg, with just a very small point difference between her, Lawrence Tufnell, and Craig Thomson heading into the final event at Woodvale on Thursday!
It's Finals Time for Season 32!

We have the Grand Finals coming up this Sunday, 18th December, at the Joondalup Sports Association!

Registration opens for Pro and Free Leagues @ 11am, with seating @ 12 midday. The Pro buy-in is $100 and open to all members. It is strictly limited to 5 tables, and first in first served for seats. Be sure to get in as soon after 11am as you can to ensure you get your spot!

More info regarding the Grand Finals can be found at -

http://wapokerleague.com.au/content.aspx?ContentID=final

The new season starts this week!


Season 33 starts this Tuesday (13th December) at Joondalup Sports Association (Beaumaris). Our final tournament for the year is at Woodvale Tavern on the 22nd Dec, then we return from the 3rd January 2017 at Joondalup Sports Association, and Woodvale on the 5th.
We're still very happy with the prize and payout structure of the Pro League, and are confident that paying out more of your buy-ins on each nightly event is offering a great value event for our members.

In striving to continually improve, this season we are going to trial a change to the Pro starting stack to 16,000, which should result in an even better game for our members, without sacrificing our end game and causing 'shoot out' final tables, which no one likes.

As always, our members feedback is appreciated! Chat to Jason about your ideas and suggestions :)

Have a great season, and best of luck for the finals!

Your WAPL Team
---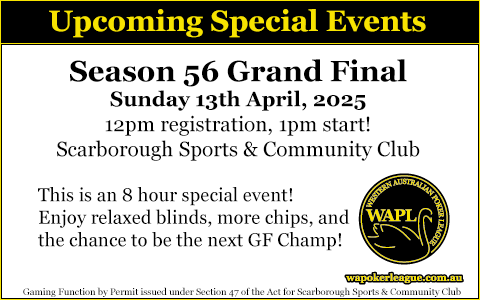 ---
Quick Links
---
Western Australian Poker League promotes and conducts responsible gaming. If you feel you may have a problem gaming issue, we encourage you to call the Gambling Helpline on 1800 858 858 and also see www.gamblinghelpline.org.au